2022 Incidents
Month
Engine/ Rescue
Medic
Brush /WLSU /UTV /Utility
Jan
57
43
1
Feb
36
37
4
Mar
41
31
6
Apr
32
35
7
May
39
36
1
Jun
38
44
2
Jul
30
28
0
Aug
56
46
2
Sep
47
44
2
Oct
41
50
2
Nov
35
54
5
Dec
40
39
5
Total
492
487
37
2023 Incidents
Month
Engine/ Rescue
Medic
Brush /WLSU /UTV /Utility
Jan
43
42
1
Feb
32
38
5
Mar
28
29
5
Apr
42
39
10
May
48
41
0
Jun
37
52
0
Jul
41
47
3
Aug
38
49
9
Sep
38
48
3
Oct
39
35
0
Nov
0
0
0
Dec
0
0
0
Total
386
420
36
Web Counters
Website Visitors
Since
August 24, 2023

Visitors Today
Dec 01, 2023

September 25, 2023
Fall is here, and, as often happens, black bears are becoming very active in the Aldie area. A very large bear weighing several hundred pounds visited the village overnight and raided some trash cans in the process. As development continues to encroach into forested lands and habitats commonly used by wildlife as human populations are also growing and spreading across most of our area, bear encounters have become quite common. Please use caution on the roadways as well as unfortunately, every year, several bears are struck by vehicles on local roads.
Information about bear safety can be found via the following link from the Virginia Department of Wildlife Resources: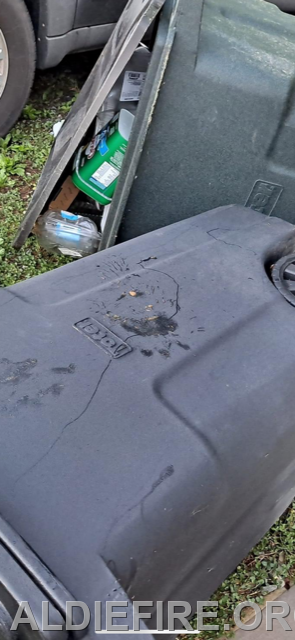 A very large bear raided trash cans in the village of Aldie overnight on 09-25-2023. This heavy-duty commercial trash can was cracked by the weight of the bear. The cans were adjacent to a home just a few feet from Route 50.